Insolvency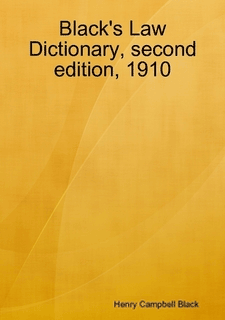 Dictionary:
Black's Law Dictionary: 2nd Edition
The condition of a person who is insolvent; inability to.pay one's debts; lack of means to pay one's debts. Such a relative condition of a man's assets and liabilities that the former, if all made immediately available, would not be sufficient to discharge the latter. Or the condition of a person who is unable to pay his debts as they fall due or in the usual course of trade and business. See Dewey v. St. Albans Trust Co., 56 Vt. 475, 48 Am. Rep. 803 ; Toof v. Martin, 13 Wall. 47, 20 L. Ed. 481; Miller v. Southern Land & Lumber Co., 53 S. C. 364, 31 S. E. 281; Leitch v. Hollister, 4 N. Y. 215; Silver Valley Mining Co. v. North Carolina Smelting Co., 119 N. C. 417, 25 S. E. 954; French v. Andrews, 81 Hun, 272, 30 N. Y. Supp. 796; Appeal of Bowersox, 100 Pa. 438, 45 Ain. Rep. 387; Van Riper v. Poppenhausen, 43 N. Y. 75; Phipps v. Harding, 70 Fed. 470, 17 C. C. A. 203, 30 L. H. A. 513; Shone v. Lucas, 3 Dowl. & R. 218; Herrick v. Borst, 4 Hill (N. Y.) 652; Atwater v. American Exch. Nat. Bank, 152 III. 605, 38 N. E. 1017; Rug-gles v. Cannedy, 127 Cal. 290, 53 Pac. 916, 46 In R. A. 371. As to the distinction between bankruptcy and insolvency, see Bankruptcy.
—Insolvency fund. In English law. A fund, consisting of moneys and securities, which, at the time of the passing of the bankruptcy act, 1861, stood, in the Bank of England, to the credit of the commissioners of the insolvent debtors' court, and was, by the twenty-sixth section of that act, directed to be carried by the bank to the account of the accountant in bankruptcy. Provision has now been made for its transfer to the commissioners for the reduction of the national debt. Robs. Bankr. 20, 56,
— Open insolvency. The condition of one who has no property, within the reach of the law, applicable to the payment of any debt. Hardesty v. Kinworthy, 8 Blackf. (Ind.) 305; Som-erby v. Brown, 73 Ind. 356.
Publisher:
West Publishing Company
Copyright Holder:
West Publishing Company